The Slow Death of Fresno State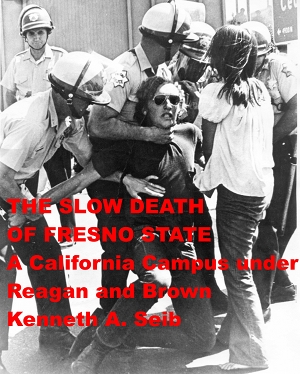 In the late 1960's and early 70's Fresno State (then a college) was in turmoil with Governors Reagan and Brown attacking unions, liberals and minority studies programs. After various professors at FSC were fired, they set up The Fresno Free College Foundation for a tax deductible legal defense fund, and that's how the FFCF got started. The FFCF later began a number of projects; like The Ananda Fund, Keyboard Concerts, Orpheus Concerts, HausKoncerts, Spectrum Gallery, Gallery 25 and KFCF. The Foundation also published a book "The Slow Death of Fresno State: A California Campus under Reagan and Brown" by Kenneth A. Seib that detailed the events of that era. The book has been out of print for a number of years and copies of the book in hard cover are going for as much as $265.00.
It is now available as an e-book for only $9.95 with the proceeds benefitting the Foundation. It is available at https://www.smashwords.com/books/view/255399 and will soon be at the following on-line retailers: Sony, Barnes & Noble, Kobo, Amazon, Diesel, Apple, Page Foundry, Baker-Taylor's Blio, Library Direct and Baker-Taylor's Axis 360. It's a fascinating account with photos of the upheaval in education in the late 60's that is still having an effect today, and in some cases repeating itself. Get it for yourself, or as a stocking stuffer gift.